NEW!
THE CRAFTER'S SECRET
VOL. 02
WITH EXCLUSIVE PRESALES DISCOUNTS
FOR WHOLESALERS
UP TO 57% OVER RETAIL PRICE
ONLY UNTIL SEPTEMBER 1ST
NEW MASTERS. NEW SECRETS.
After the success of 'THE CRAFTER'S SECRET vol. 01', FLOOS continues its evolution with its second annual publication in paper format: 'THE CRAFTER'S SECRET vol. 02'.
This second book in the print series from FLOOS puts together the best floral recipes from the master florists who participated in www.floos.org during the 2016 – 2017 season, with designers as remarkable as Stijn Simaeys, Francesc Porres, Mark Pampling, Dominique Ostheeren, Jürgen Herold, Přemysl Hytych, Nicu Bocancea, Pirjo Koppi and Carles J. Fontanillas.
Through almost 300 pages, the current book continues to bring the philosophy of the most influential floral designers in the international scene to the professionals who don't use the internet often and who are therefore not familiar with the recipes on FLOOS's website.
[vc_gallery type="nivo" interval="5″ images="8742,8748,8751,8754,8745″ img_size="full"]
TECHNICAL INFORMATION
Cover: Paperback with flaps
Editor: FLOOS, the crafter's secret
Publishing date: September 2017
Number of pages: 295
Language: Multilingual edition (English,
Spanish and French)
Dimensions: 30x24x2 cm
Website: shop.floos.org
VOL.02 PRICE LIST
ONLY FOR WHOLESALERS AND DISTRIBUTORS
PRE-SALES
(Only till 1th of September)
24 BOOKS … 30% … 65.00€
45.50€
36 BOOKS … 37% … 65.00€
  40.95€
48 BOOKS … 47% … 65.00€
  34.45€
72 BOOKS … 57% … 65.00€
  27.95€
SALES
(2017-2018)
12 BOOKS … 10% … 65.00€
58.50€
24 BOOKS … 20% … 65.00€
52.00€
36 BOOKS … 30% … 65.00€
  45.50€
48 BOOKS … 40% … 65.00€
  39.00€
60 BOOKS … 50% … 65.00€
  32.50€
72 BOOKS … 50% … 65.00€
  32.50€
(-30% of the delivery cost)
AN ESSENTIAL BOOK FOR YOUR FLORISTRY COLLECTION
27 advanced recipes explained step by step
All recipes have been carefully selected by their designers and reflect each crafter's own style and their particular techniques.
Illustrative videos accessible through a QR Code
All compositions have a QR Code that allow you to access exclusive videos on how to recreate each design.
In a multilingual format: English, Spanish and French
You will find all the texts translated into these 3 languages.
MASTER FLORISTS IN VOL.02
Stijn Simaeys
Master florist, recognised worldwide, who has worked in the Netherlands, Poland, Germany, England, China and Croatia.
FRANCESC PORRES
Master florist and international teacher, who was runner-up at the Spanish Cup in 2013 and also at the Catalonia Cup.
MARK PAMPLING
Renowned master florist. Proclaimed Fusion Flowers International Designer of the Year and winner, among others, of the China International Orchid Show and the Asia Cup.
Jürgen Herold
International master florist who took 1st Place at the Walter Goebbels Pokal in 2000, Bloom's New Faces of Floral Design in 2012 and the Deutsche Meisterschaw der Floristen, also in 2012.
DOMINIQUE
OSTHEEREN

Germany
Dominique Ostheeren
Master florist with more than 10 years' experience, who realises courses and demonstrations nationally (she's from Germany) and internationally.
Přemysl Hytych
Acclaimed for his many international successes including, among others, winner of the International Floristry Championship twice.
PŘEMYSL
HYTYCH

Czech Republic
Nicu Bocancea
Winner of national floral design championships in Rumania as well as championships internationally, who works and realises demonstrations throughout Europe.
Pirjo Koppi
The Gold medal of Honour of the Finnish Florists Association in 2016, 1st place at the International Floral Art Competition in 2007, 2008, 2010 and 2011, as well as champion of Finland in 2007, are just some of the titles she has won.
Carles J. Fontanillas
Master florist recognised around the world for his innovative contributions to floral design and the driving force behind FLOOS.
CARLES J.
FONTANILLAS

Spain
MORE ABOUT FLOOS AT WWW.FLOOS.ORG 
FLOOS is the first online library of professional
floral recipes for florists and designers, in which some of the most influential master florists of the world reveal secrets of their own arrangements step-by-step. Though a series of beautiful images, 3D photographs and illustrative videos, users can recreate more than 300 exclusive floral designs that have been published online at www.floos.org
THE CRAFTER'S SECRET VOL.01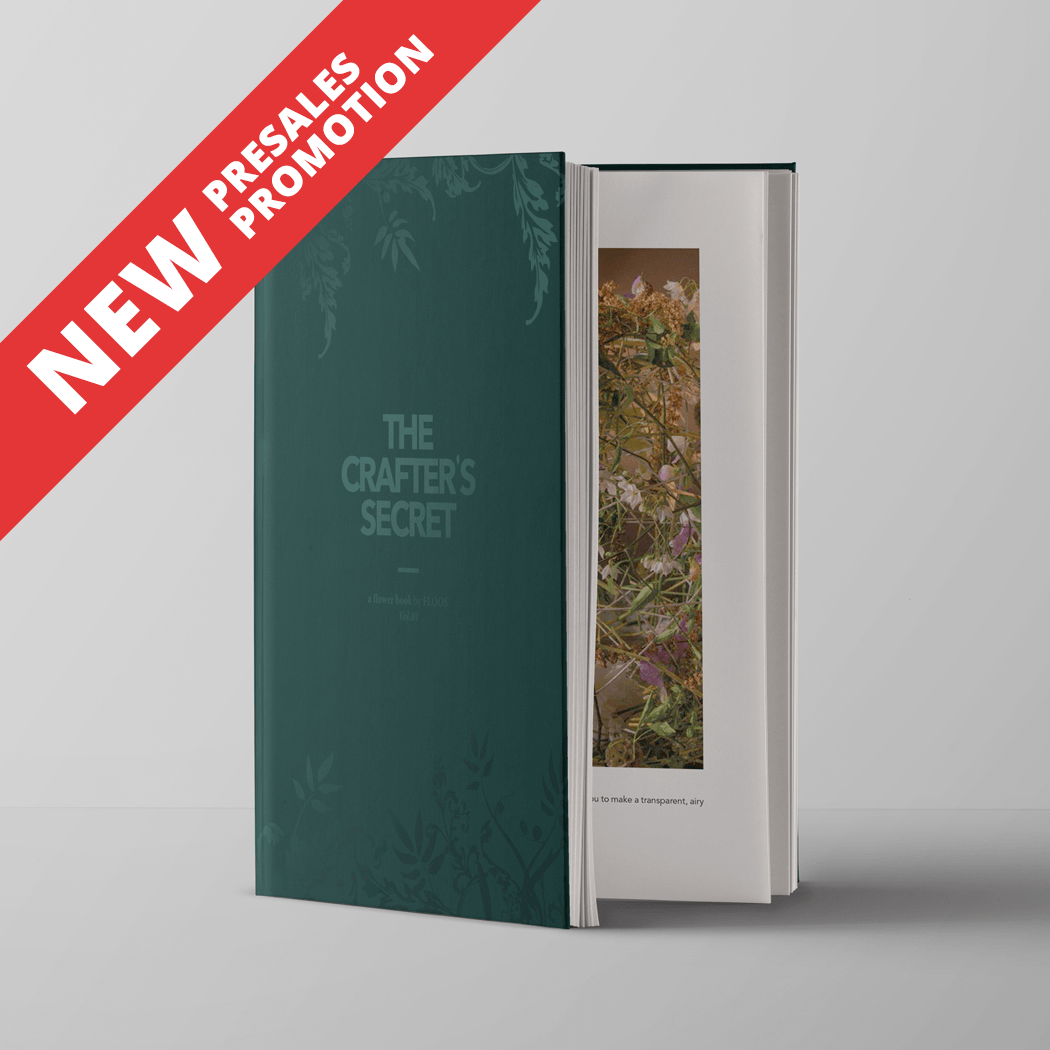 THE CRAFTER'S SECRET VOL.02
DO YOU WANT TO SELL OUR BOOKS?
Fill the form below and we will inform you about our exclusive bulk discounts